Team Messaging
Overview
Organizations using RingCentral can now embed deep team messaging and task automation functionality into their business workflows and apps. Create dynamically generated teams, embed team chat functionality into apps, or quickly build text bots using popular bot frameworks. You can also automate data access and sharing between apps to build tight app ecosystems that deliver stronger contextual awareness, automate workflow tasks, and provide access to artificial intelligence engines.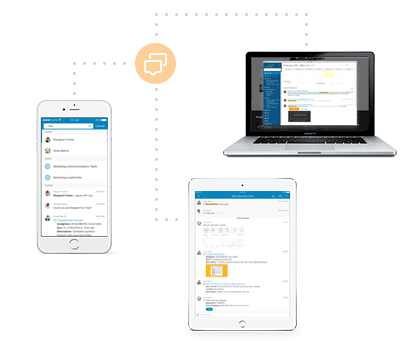 Sample Business Scenarios
Customer care.

Create dynamically generated teams that include predetermined members every time a new trouble ticket gets issued. This not only ensures that all required individuals get included in the resolution process, but keeps all pertinent information organized in one central repository.

ChatOps.

Use Hubot, Lyta, Botkit, and other popular bot frameworks to quickly build messaging alert bots. Team messaging APIs and SDKs allow you to accelerate innovation and automation to build enterprise bots with stronger contextual awareness. You can programmatically incorporate third-party app data to automate workflow tasks or give users access to artificial intelligence engines for more efficient decision making.

Cloud investment ROI

. Open silos of data across your business applications to simplify,automate, and accelerate the decision-making process. For even faster deployments, take advantage of 40+ out-of-the-box integrations for easy adoption into your app ecosystem.