RingCentral Reports
Overview
Every day companies engage in a high volume of voice calls, text messages, and faxes as an integral part of getting work done. By collecting and analyzing communication data , businesses can gain valuable insight for planning current and future business needs. RingCentral reporting takes your call, text, and fax data and provides usage analysis and trending metrics in customizable, easy-to-read views. By tightly integrating RingCentral reports into your front-office applications, business intelligence tools, and dashboards, you can easily access these valuable insights and enrich your understanding of how your company communicates.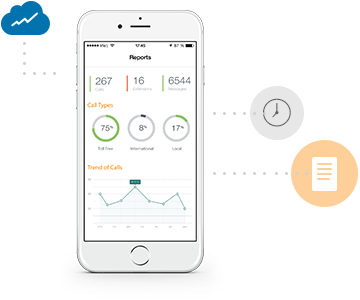 Sample Business Scenarios
A company integrated RingCentral reporting into their executive dashboard application so that each department could easily provide management with automated reports that compared call volumes and duration by teams, sliced by geography and markets, to reduce potential errors caused by manually assembled metrics. Additionally, management could later further dissect this data from each team into more targeted criteria, such as the number of calls that lasted more than 3 minutes, to assist with predicting future business and operational requirements.

A sales and professional services team integrated RingCentral reporting into their CRM application to gain instant access to contact data for any customer, partner, or prospect, such as date of call, duration, direction, and contact person, all in one place.

A sales team took advantage of the highly visual metrics from RingCentral reporting to display them on wall-mounted monitors to show team performance based on calls per hour per representative and the number of minutes per call, fostering an incentive environment for the team and feeding gamification strategies.

A company that bills by time spent on the phone integrated RingCentral reporting with their billing system to enable them to create accurate, detailed reports to use for billing purposes and eliminate manual under-reporting or other errors while promoting transparency with clients.
For more advanced business phone integration capabilities, check out the
CRM Use Case
to learn more about integrating popup screens, call logging, and explore additional CTI (Computer Telephony Integration) scenarios.