WebRTC Voice
Overview
With RingCentral's WebRTC Voice API capabilities, users can initiate calls from wherever they are using whatever device they are on. The WebRTC Voice API powers advanced voice applications with only a WebRTC enabled browser, no phone is necessary. RingCentral WebRTC provides call control capabilities including hold, mute, park, flip, transfer, forward, recording, barge and whisper.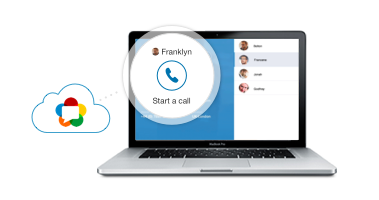 Sample Business Scenarios
Browser integrated voice: sales and support teams that want to improve efficiency by having integrated voice from their CRM or Helpdesk solution. Using WebRTC, users can make and receive calls from within applications directly from the browser, without the need for a phone. Advantages include call control and direct application integration.

Caller ID Matching: increase call pick up by automatically selecting the best number for outbound dialing. By creating a pool of numbers, applications can select the most appropriate number for dialing including area code matching and stickiness. Using a local area code and sticky phone numbers help build relationships with customers and can be automated with RingCentral's WebRTC Voice API. The same numbers may be used for SMS as well.

Purpose-built clients: contact centers that wish to have limited calling capabilities, such as inbound only calls can use WebRTC to build custom integrations that provide only the needed capabilities and do not have to expose full calling capabilities such as with soft phone or hard phone devices.
For more advanced business phone integration capabilities, check out the
CRM Use Case
to learn more about integrating popup screens, call logging, and explore additional CTI (Computer Telephony Integration) scenarios.