Sending SMS and Fax
Overview
Power your business apps and workflow with tailor-made text messaging and electronic faxes. Using RingCentral Connect Platform, you can easily build SMS and Fax into software that your customers and employees rely on. Not only are these capabilities included in your RingCentral MVP™ accounts, you will not be nickled-and-dimed for each text or fax you send*, and you get to send and receive texts and faxes from the same business phone number that you put on your company's Websites and business cards.
Main Features:
Send and receive: our APIs enables you to send and receive messages so you can build a complete 360 experience. And you can text any SMS-capable phone number in the world.
Use your RingCentral numbers: no need to buy separate phone numbers that's different from your business phone number.
Included usage: your RingCentral MVP™ Premium and Ultimate accounts includes access to SMS and Fax API; no need to pay for each message or page you send.*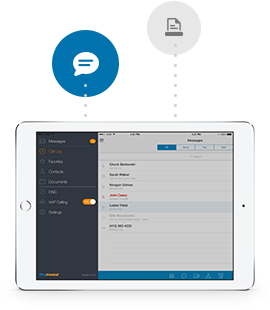 Sample Business Scenarios
A retail business integrated the FAX API into their order system and now automatically sends faxes to customers based on activities, such as to confirm refunds or shipments, to notify of status changes, or to send reminders about events, ensuring that the business is perceived as responsive and knowledgeable.

A healthcare organization integrated the FAX API into their medical processes to ensure compliance and proper record-keeping. With easy access to online faxing, physicians and administrators are more likely to send the appropriate communications to patients and institutions.

A sales team integrated the

SMS API

into the workflow of their sales process so that key individuals could be automatically notified with an SMS text message when target goals are reached. For example, the regional VP might receive a text message every time a $250K opportunity in their territory reaches a major sales stage.

An insurance organization, a regulated industry, integrated the SMS API into their workflow to ensure prompt and error-free communication to vital partners, like property adjusters or inspectors, when they needed quick and accurate responses.
For more advanced business phone integration capabilities, check out the
CRM Use Case
to learn more about integrating popup screens, call logging, and explore additional CTI (Computer Telephony Integration) scenarios.
*During the RingCentral Developers Beta program, customers with RingCentral MVP™ Premium or Ultimate accounts can access these capabilities with no additional per message or per page charge will apply. Once this program exits Beta, overage charges may apply for usage that exceeds included usage per seat.