Click to Dial
Overview
For employees who spend much of their time making phone calls, manually dialing numbers on a keypad or repeatedly copy-and-paste phone numbers into softphone apps can become very tedious. When you integrate RingCentral's click-to-dial functionality with common front-office applications, your employees can make calls just by clicking a phone number link, saving time and making fewer errors. Sales and service representatives can save up to an hour a day with this simple integration.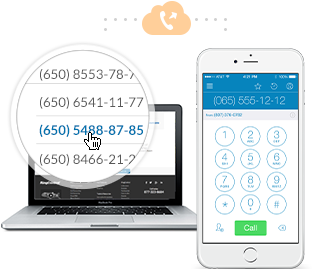 Sample Business Scenarios
The Service department wants to follow up with multiple customers about a service issue that is now resolved. Since the customer service application has been integrated with the RingCentral RingOut API, it's easy to pull up the list of customers who were affected by the service issue, and see the phone number link showing the preferred phone number to use for service calls. Clicking the link initiates the call to each customer.

The Marketing department wants to confirm attendance to a conference and wants to assign local marketing representatives to contact registered attendees in their local area. Because their CRM application is integrated with the RingCentral Connect Platform, the Marketing department is able to assign groups of attendees to representatives based on location and time zone, and provide a phone number link that includes the preferred number to call. Local representatives simply click the links to initiate the calls and successfully confirm their attendance to the event.

The Sales team wants to follow up with a group of customers who are eligible for a product upgrade and want to make sure they can reach them at a convenient time to talk. Because their CRM application has click-to-dial capabilities, customer-defined preferences, like preferred time a of day and preferred phone number, are automatically selected by the system and displayed for the sales representative, who just clicks the phone number link during the appropriate time window to reach the customer while they're open to discussions.
For more advanced business phone integration capabilities, check out the
CRM Use Case
to learn more about integrating popup screens, call logging, and explore additional CTI (Computer Telephony Integration) scenarios.